Contact Us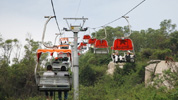 Add:NO.6,Wujiacun road,Haidian District,Beijing,China.
+86-10-58493399
+86-0-13811686252

Fax:+86-10-51418182

Contact Person:
Anton Chen

About Us
You are here :
Home
» About Us
  Beijing Goodyou Ropeway Engineering Co., Ltd. A planning, design, manufacture and installtion company, is China's largest ropeway manufacturer, is the director of china ropeway association and member of chinese ski association.The general manager of the company has been invitedas the specialequipmentexpert for years bybeijing municipal government. my company has a ropeway engineering senior engineers, experts and the scenic spots of special equipment planning, mountain tourism and ski industry, a senior expert with the experience of many years passenger tramway and tourism, the ski industry,with extremely richindustry knowledge and experience. For the construction and development of tourist scenic areas and ski resorts, we will provide valuable assistance as well as the best solution for your investment decisions.
  The main business of Beijing Goodyou Ropeway Engineering CO., LTD covers manufacturing, planning, feasibility studies, engineering estimates, and some related consulting work concerning the ropeway in the tourist area and ski resort. Modern enterprise management concepts, strict management tools into the daily operations of the enterprise, successfully passed the ISO9001-2008 quality system certification, Relying on our own professional advantages and 20years industry experiences. the company has developed a series of ropeway equipment possessing stable performance, advanced technology, exact design, and excellent service, received good remarks from customers and enjoyed a good reputation in the ropeway the field of industry. So far, our company has been successful for the country's dozens of ski resorts and tourist attractions near two hundred various types of ropeway equipment. and exported around the world.
  We warmly welcome friends around the world to contact us.